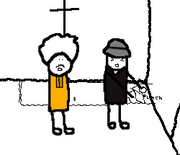 Misunderstandings occur. That's inevitable. And when they do occur, the results can often turn out to be quite humorous. It should come as no surprise that the MSPA authors act like tiny, malevolant genies, twisting the commands given to them in whatever way they can - either by accident or intentionally. Hilarity usually ensues. Often followed by the person who gave the misunderstood command backtracking and clarifying what they meant.
Examples
Edit
Community content is available under
CC-BY-SA
unless otherwise noted.