MSPAFAs by their nature almost always solicit commands from their readers, and implement them to progress the story. Usually, this is an entirely ignored in the actual story; some adventures, however, will occasionally or even persistently acknowledge the convention.
This trope is disparate from Hey Guys in that it involves the readers in the adventure, rather than the author; it can range from the occasional nod wherein the narration interacts with a reader to an adventure-long convention. It frequently manifests in a phrase like "Due to the insistence of the voices in your head...", hence the name. Additionally, this allows characters to ignore suggestions without resorting to You Can't Do That, Stupid!
Imageboard "quests" have similar story devices, such as Orb of Infinite Psych.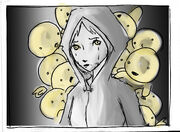 One of the best examples of the "persistent" version of this trope, the readers are a group of spectral advisors, or literal voices in Alanna's head. They end up becoming plot-relevant in other ways than their sole advice.
Subverted by the fact the protagonist is aware of the readers and often talks back to their various suggestions.
Luminus is fairly content that the "voices in his head" will guide him correctly, although he is quick to refuse when a complete and utter dumbsh*t command is entered.
Often combines this trope with a mild You Can't Do That, Stupid!
Normally, Crystal Rave just does what the readers input, but his inner child/younger self can clearly hear the voices that guide him. It's still not explained why.
JD follows the voices in his head but also decides to do some of the things. At one point, the commands are voiced by briefly shown Ghost Readers.
The readers assume the role of a (literally) captive audience voicing their approval or disapproval of the events they witness.
The readers are represented by ideas the characters have.
Subverted; the reader commands are heard by the author's in-universe counterpart, which relays them to the character's subconscious.
Rarely-used; a good example of the "occasional" variety.
Actually became a major plot point; some characters are able to shield themselves and others from the influence of the "spirits." Later, they voices become personified as a new character, Masha Kinoko. Then the "Shenanigans in a Fiery Netherworld" chapter has the players playing as a voice in someone else's head.
Community content is available under
CC-BY-SA
unless otherwise noted.